Thursday 19-03-2020 - 10:37
It's clear there's a lot going on in the world at the minute that's out of our control. We understand it can get overwhelming and all-consuming, and we want to help you in any way we can to ease worries or anxieties you may be experiencing. Whether you're working from home, social distancing or just need a distraction from the current climate, taking time to track and improve your wellbeing is super important. Checking in with your thoughts and feelings, exercising, eating well and getting good quality sleep are just a few factors that can have huge impacts on your mental wellbeing. It's so important you take adequate time to ensure you're looking after yourself. That's why we've compiled our Top Picks of Apps for your phone that work on improving your wellbeing and productivity throughout this uncertain period.
Headspace
Headspace is probably up there with one of the most well-known apps for mindfulness. One of the key exercises for practicing mindfulness is meditation, and Headspace is a great place for both beginners and experienced meditators to start practicing. Regular meditation has been shown to reduce levels of stress, improve focus and even result in better quality of sleep.
The app is full of guided meditation sessions and useful videos including practicing correct postures, breathing techniques and how to clear your mind of irrational thoughts. Much of their sessions focus on self-awareness, rationalising your thoughts and feelings and tuning into your body. There's also a section specifically to help you sleep. This includes storytelling in a range of soothing voices, relaxing music and various sounds to help you wind down from the day.
Headspace have recently added their section 'Weathering the Storm' consisting of free meditation and sleep exercises designed to support you during the current global situation. These are sessions designed to be completed in the comfort of your own home, at your own pace.
Headspace is free to sign up to, however there are only certain parts of the app that are free to use – so watch out for those pesky padlock icons! Although if you do want full access, you can get a free 7-day trial, with a monthly charge of £9.99 following this.
Down Dog Apps
Down Dog is a company with a variety of apps for Yoga and Home Exercise: Yoga, Yoga for Beginners, HIIT, Barre, and 7 Minute Workout. Again, you can take everything at your own pace. Whether you're a regular gym-goer or a novice to home exercise, these apps are designed to personalise your experience.
For the Yoga apps: choose your expertise or beginner level, length of time, type of yoga and specify any body part you may want to focus on.
For exercise apps such as 7 Minute Workouts: Choose the level you feel comfortable working at for your upper and lower body, specify any parts of your body you want to focus on and finally what music you want to bop to whilst working out!
In light of recent events, Down Dog have made all these apps free to download and use until 1st April 2020.
Deliciously Ella
Nourishing your body with healthy meals is an important part of maintaining mental wellbeing. We've been loving Deliciously Ella as it incorporates both recipe ideas and yoga practices. The app currently gives access to over 400 recipes and is constantly adding new content. These come equipped with instructional recipes, meal planners, shopping lists and step-by-step instructions on how to cook amazing vegan meals and desserts.
The app also has a Wellness section with meditation and 40+ yoga videos ranging from 10-40 minutes in length. These include exercises for beginners and for those more advanced within their practice. There's also a wide range of morning and evening practices to help you start and end your day.
For 99p a month you can access all content on this app.
Calm
Similar to headspace, Calm is an app for Mindfulness with a focus on meditation and relaxing sounds and visuals to help you rewind and de-stress. The app is personalised to cater for your needs. You can choose to focus on reducing your anxiety, improving sleep, building self-esteem and reducing stress. Listen to sounds of nature with complimenting graphics, guided meditations, choose from a variety of sounds to help you focus, sleep or relieve stress. You can also complete 'daily check-ins' to track your mood across time. The app also offers Sleep Stories which are relayed in soothing voices to help induce sleep and calmness, often narrated by famous names (we didn't know we needed Stephen Fry to read us a bedtime story until now).
As with Headspace, a limited amount of the in-app sessions are free. You can access everything on the app for free using a 1-week trial. Following this, it comes at a cost of £28.99 a year.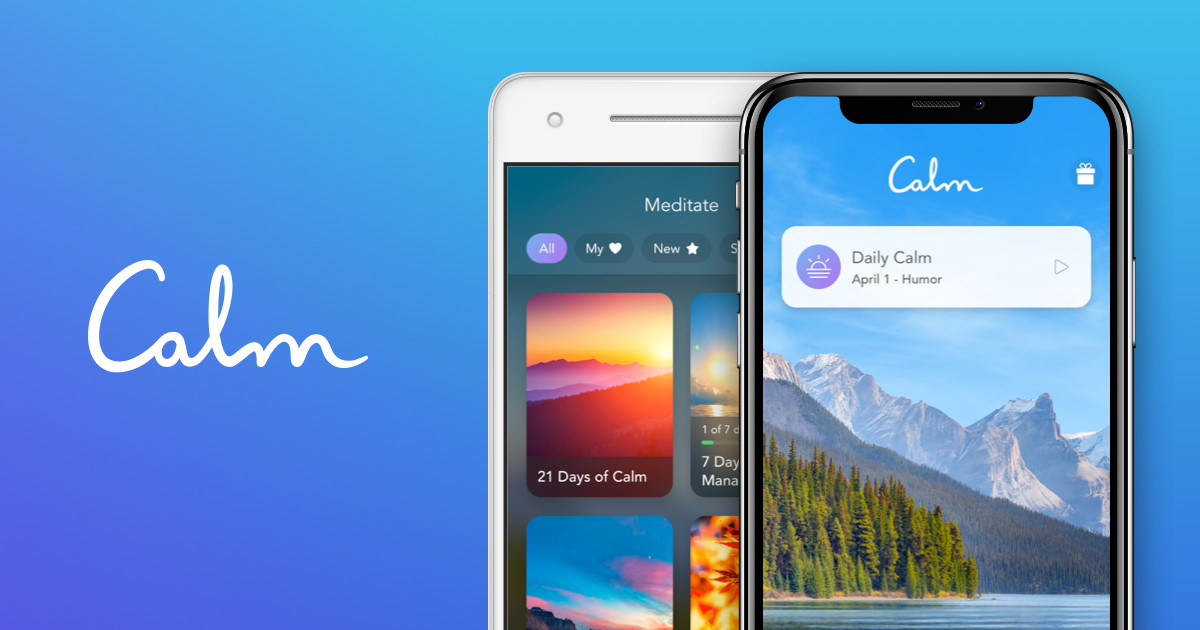 Flora
Flora is an app for improving productivity by tackling technology addictions (we realise this sounds ironic, stay with us). The purpose of this app is to maximise productivity by not using your phone for a specified time period. When you commit to being productive, you 'plant a seed'. If you don't open any other apps in your phone within that time frame, your seed blossoms into a tree! You can also 'plant trees' with your friends. If just 1 person uses their phone however, all parties lose out on having their tree grow. This is a super useful app for study groups or being productive with work colleagues if you're working from home where distractions are often more prominent.
Flora is completely free to use!
Time Limits for apps on your phone (iOS 12)
Arguably a strange one to throw in here considering we're literally encouraging you to download new apps for your phone. But it's important to remember to limit your social media usage – especially in the current climate where our timelines are saturated with negativity in the news. It can easily consume you and become all you think about, so taking breaks and only checking your feed when necessary is super important. Now and always! Check out how to set time limits here:
https://www.macrumors.com/how-to/use-app-limits-and-downtime-in-ios-12/
We know it can often seem like our 'to-do' lists are piling up and there isn't enough time in the day to get everything done but taking even 10 minutes out of your day to practice mindfulness can be super beneficial. The more you incorporate these activities into your daily routine, the easier it will be to keep on track and notice the benefits.